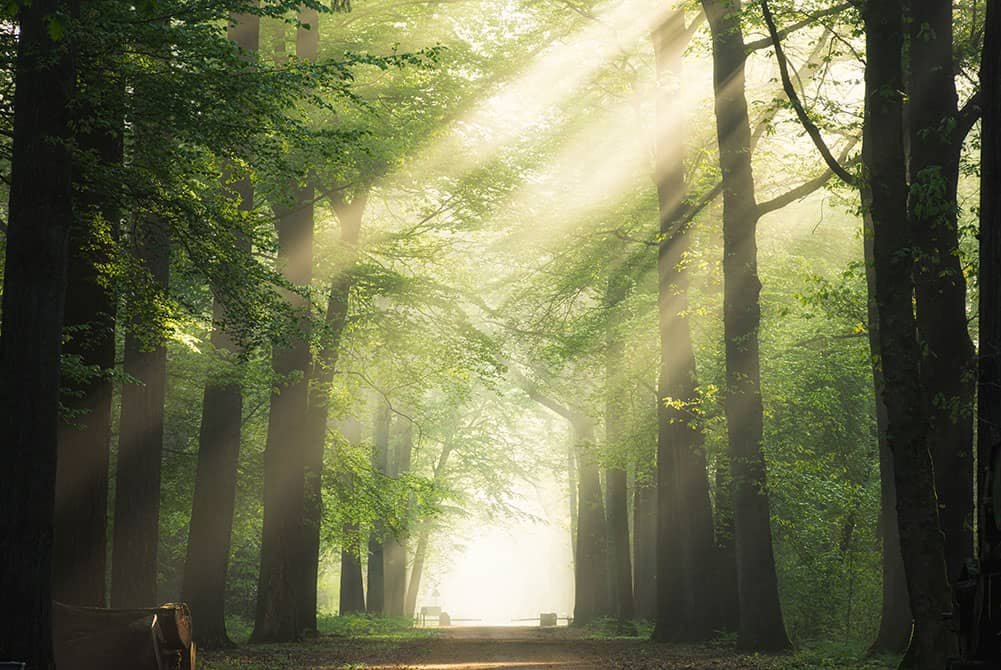 All trees can be looked as carbon-storing trees since wood is 50% carbon, but there are some tree species that store more carbon dioxide than others.
Our best way to fight CO2 emissions is by planting trees. Tree is 50% carbon, they take in carbon dioxide and turn it back to clean, breathable oxygen.
Trees provide many benefits including for local microclimates; increase rain chance, lowering summer temperatures in urban areas by up to 4.5C. Carbon emissions from electricity use in the summer can be reduced by 31% from shading and cooling from trees.
What Is Carbon Sequestration?
Carbon sequestration is the process by which carbon dioxide is captured from the atmosphere by trees for long-term storage.
The rate of carbon sequestration depends on the growth characteristics of the tree species, the conditions for growth where the tree is planted, and the density of the tree's wood.
What Are the Top 10 Carbon-Storing Trees?
We put together a list of trees that can be considered as the top CO2 absorbers in terms of helping Earth fight climate change:
The amount of carbon dioxide produced by cars driven 26,000 miles annually can be absorbed by an acre of trees.
Pine Tree
| | | |
| --- | --- | --- |
| Storage Capacity | Native Region | Hardiness Zones |
| 22 pounds of CO2 per year | Northern Hemisphere | 2-10 |
Pine trees belong to the family Pinaceae and the genus Pinus with an estimated over 126 species of pine trees in the world. Pine may also refer to the lumber derived from pine trees; pine is one of the more extensively used types of wood used as lumber. White, Red, Ponderosa and Hispaniola pine trees are the most carbon-effective.
Pine trees are evergreen, coniferous resinous trees that can grow up to 260 ft tall. The average height of the majority of species is reaching 50–150 ft tall. Pines are long-living trees and typically reach ages of 100–1,000 years, some even more. Pinewood is widely used in high-value carpentry items such as furniture, window frames, paneling, floors, and roofing, and the resin of some species is an important source of turpentine.
Yellow Poplar (aka Tulip Tree)
| | | |
| --- | --- | --- |
| Storage Capacity | Native Region | Hardiness Zones |
| 137 pounds of CO2 per year | Throughout the Eastern United States | 5-9 |
Yellow Poplar is also known as the tulip tree or blue-poplar, tuliptree, and yellow wood is a large tree from the magnolia family (Magnoliaceae). The tree is known to reach a height of 191.8 feet with wide leaf size varies from 8–22 cm long and 6–25 cm wide.
The flowers are tulip-like in size and shape and are very fragrant, and are producers of valuable nectar. The fruit is a light brown cone-like structure consisting of many winged samaras on a central stalk. Tuliptree is widely used in products such as furniture, musical instruments, crates, toys, boats, shingles, interiors, pulp, and fuel due to its softness, resistance to splitting, and easily worked.
Nectar to yield 4 pounds of honey can be produced from the flowers from a 20-year-old tree.
Oak Tree
| | | |
| --- | --- | --- |
| Storage Capacity | Native Region | Hardiness Zones |
| 48 pounds of CO2 per year | Northern Hemisphere | 3-10 |
Oak is a tree or shrub in the genus Quercus of the beech family, Fagaceae, with approximately 500 extant species of oaks. Oakwood has great strength and hardness, and very resistant to insect and fungal attack because of its high tannin content. Oak trees can be found in North America, South America, Europe, Asia and Africa.
The fruit of an oak tree is called acorn and contains one seed. One of the trees with the thickest limbs in the world is a White oak. Oaktree has many uses from timber and furniture, flooring, timber-frame buildings, and veneer production to shade and medicine in nature.
Barrels for aging wines, sherry, and spirits such as brandy, Irish whiskey, Scotch whisky and Bourbon whiskey, are made from European and American oak.
Silver Maple Tree
| | | |
| --- | --- | --- |
| Storage Capacity | Native Region | Hardiness Zones |
| 455 pounds of CO2 per year | Eastern North America | 3-9 |
Silver maple tree is a species native to the eastern and central United States and southeastern Canada. A mature tree can reach a height of 50–80 feet, with a spread of 35–50 feet. They are fast-growing provided quick shade. Native Americans used the sap of wild trees to make sugar, as medicine, and in bread.
Silver maples can also crack sidewalks and foundations and need to be planted away from sidewalks, driveways, foundations, and sewer lines or septic systems. The wood can be used for making paper or used in furniture, cabinets, flooring, musical instruments, crates, and tool handles because it is light and easily worked. It is being researched as a potential source of biofuels.
Horse Chestnut
| | | |
| --- | --- | --- |
| Storage Capacity | Native Region | Hardiness Zones |
| | Northern Hemisphere | 3-8 |
Horse Chestnut tree with botanical name Aesculus hippocastanum is a species of flowering plant from the family Sapindaceae, and can live for up to 300 years. It is a large tree, growing to about 28 ft tall. It is commonly found in parks, streets and avenues.
The seed extract is used for its venotonic effect, vascular protection, anti-inflammatory and free radical scavenging properties. The Chestnut tree is native to southeast Europe and it is easily grown from seed and tolerates city life well.
The fruits are capsules that contain large seeds that look like large buckeyes or chestnuts and contain poisonous compounds, that's why they should not be eaten. The flowers provide a rich source of nectar and pollen for insects, particularly bees.
London Plane Tree
| | | |
| --- | --- | --- |
| Storage Capacity | Native Region | Hardiness Zones |
| 50 pounds of CO2 per year | Hybrid developed in Britain | 5-9 |
London Plane is a tree in the genus Platanus and it is a large deciduous tree growing over 131 ft tall, with a trunk up to 10 ft or more in circumference. The tree is a hybrid of American Sycamore and Oriental Planetree and it was formed by hybridization in the 17th century and it was further developed in 1984 to resist the diseases that so often plagued Platanus acerifolia.
It is now extensively cultivated as an ornamental and parkland tree because it is very tolerant of atmospheric pollution and root compaction. Canker, leaf spot and powdery mildew may also occur or attract insects such as borers, scale, Japanese beetles, caterpillars and mites.
American Sweetgum Tree
| | | |
| --- | --- | --- |
| Storage Capacity | Native Region | Hardiness Zones |
| 380 pounds of CO2 per year | Eastern United States and Mexico | 5-9 |
American Sweetgum tree is also known as American storax and it is native to eastern North America and tropical regions of Mexico and Central America. It can grow even in heavy, dry, clay soils and it has very few insects and disease problems.
It can grow anywhere from 50–70 ft in cultivation and up to 150 ft in the wild, with a trunk up 2–3 ft in diameter. It is one of the most important materials for plywood, also used for furniture, interior trim, railroad ties, cigar boxes, crates, flooring, barrels, woodenware, wood pulp and interior woodwork.
Sweetgum fruits are spiny, resinous, woody balls made up of clusters of 2-seeded capsules that add an interesting texture to the tree as an ornamental in your landscape.
Red Mulberry Tree
| | | |
| --- | --- | --- |
| Storage Capacity | Native Region | Hardiness Zones |
| 70 pounds of CO2 per year | Eastern and Central North America | 5-9 |
Red mulberry is also commonly known as Morus rubra, and it is native to eastern and central North America. Red mulberry is a deciduous tree, growing to 35–50 ft tall, with a trunk up to 20 in diameter.
It produces berries fruits that are edible and very sweet and they can be eaten raw, used in the fillings of pastries, and fermented into wine. The large sweet fruits attract many kinds of songbirds; raccoons and squirrels compete with the birds for the fruits. The leaves most certainly are not, as they are a favorite food source of silkworms (Bombyx mori) and livestock.
Dogwood
| | | |
| --- | --- | --- |
| Storage Capacity | Native Region | Hardiness Zones |
| | Northern Hemisphere | 5-9 |
Dogwood is part of the family Cornaceae with about 30–60 species. Cutting boards and other fine turnings can be made from this fine-grained tree. It can grow up to 33 ft high, often wider than it is tall when mature, with a trunk diameter of up to 1 ft.
Dogwoods have been used medicinally for generations; the bark is rich in tannins, so ground bark or leaves are used to treat pain, fevers, backaches, dizziness, weakness, excessive sweating, uterine bleeding, and incontinence.
Eucalyptus Tree
| | | |
| --- | --- | --- |
| Storage Capacity | Native Region | Hardiness Zones |
| 70 pounds of CO2 per year | Australia | 8-11 |
The eucalyptus tree is from the myrtle family and with over seven hundred species of flowering trees, shrubs or mallees. Eucalyptus are native to Australia and are fast-growing trees with valuable timber, or can be used for pulpwood, honey production or essential oils.
Eucalyptus trees, including mallees and marlocks, are single-stemmed and include Eucalyptus regnans, the tallest known flowering plant on Earth.