Looking for the best organic, eco-friendly, non-toxic diapers bag with great design and at an affordable price? Here is the ultimate list for the 10 Best Organic, Eco-Friendly, Non-Toxic Diaper Bags!
Today's parents are looking for smartly designed, highly functional solutions that are not just better for their health but also for the environment and more sustainably produced.
10 Best Organic, Eco-Friendly, Non-Toxic Diaper Bags
Diaper bags are not just accessories but necessary addition to any mom or dad with a baby. They can make your life easier especially if you are a frequent traveler with your baby.
This KILAMAL diaper bag is light and sturdy, made from 100% vegan faux leather. KILAMAL diaper bags are practical and stylish and it can be worn as a backpack and shoulder bag, and it comes with 14 spacious pockets. This functional and durable baby diaper bag has strong zippers, and it is easy to clean. It comes with three pockets and pouches and has an insulated bottle holder inside the diaper bag.
The bag is made of multilayer composite environmental protection fabric. It has a spot to slip it on luggage which will come in handy when you travel out of the country.
---
This popular diaper bag has everything you need and it is made of water-resistant, synthetic fabric polyester, which is a that's breathable and lightweight. It is phthalate-free, also BPA-free, lead-free and PVC-free!
It comes with tote handles for versatility and an easy-access tech pocket and 10 pockets including two elasticized, mesh side pockets that fit most sized bottles. Includes grab handles and adjustable shoulder strap with slip-on shoulder and pad cushioned changing pad.
Skip Hop is one of the best-selling and most globally recognized brands for parents, babies and kids.
---
LÄSSIG offers a wide variety of patterns, colors, and materials, high-quality diaper bags are increasingly produced with recycled, untreated and environmentally friendly materials. This diaper bag is produced using specially designed spin dye material which is manufactured in an especially resource-friendly way using a shorter dyeing process. 
This process eliminates the dye bath and saves a large amount of water usually associated with dyeing. Compared to the traditional dyeing process, less effluent is produced, energy use and COD emissions are reduced.
The sustainable accessory bag uses cork material on the sides and for the trim on the adjustable shoulder strap, which with a clip makes hands-free carrying by converting the bag into a backpack. The diaper bag features well organized interior compartment, including a water-repellent changing mat, insulated bottle holder.
It also comes with a removable compartment for baby food jars, a removable zip pouch, stroller attachment, a baby wipe pocket, a water-repellent wet pocket, and a key finder.
---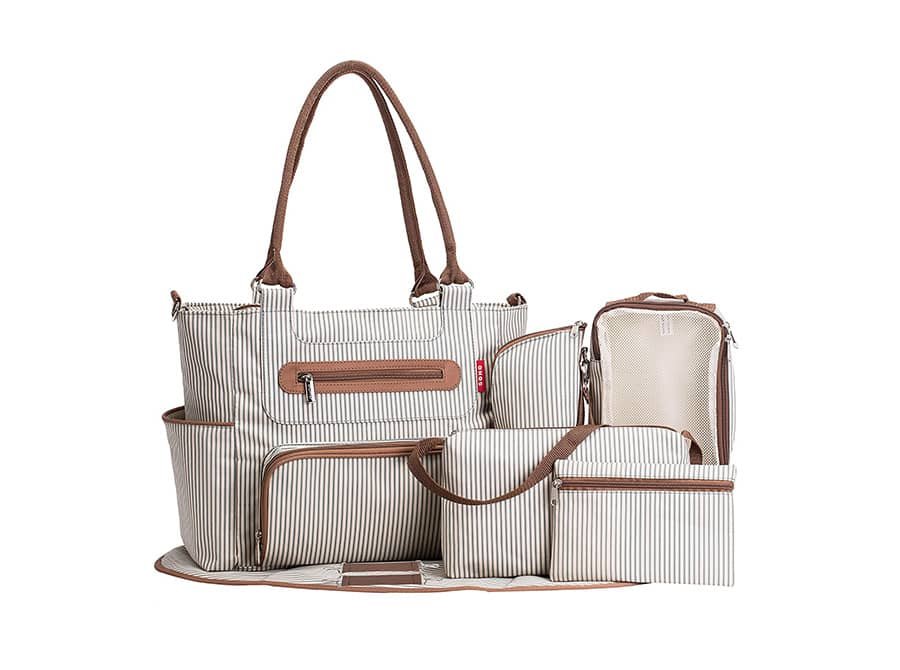 This tote bag has all the must-have features and it comes with is a 7-piece set including 11 pockets for organization, water-resistant textured fabric, easy-grab top handle, baby bottle bags with handle. Included stroller straps can help hang it on a stroller, and comes with cushioned changing pad.
The SoHo grand central station diaper bag is PVC-free and phthalate-free and includes zippers and straps made of high-quality materials. The company is a family-owned business founded in 2005.
---
This luxury Greenwich Diaper Bag is made of durable, wipe-clean vegan leather, with earthy colors and clean lines. It has 10 pockets, including an interior zip pocket and two insulated front pockets. The stylish baby bag comes with a cushioned changing pad for convenience.
It features a secure zip-top and magnetic front closures, cushioned changing pad, and adjustable crossbody strap and metal hardware.
Skip Hop is founded in 2003 and creates products that are highly functional solutions with stylish, well-curated simplifying design.
---
Baby K'tan place importance on environmentally friendly practices throughout their eco-friendly baby products. All of their boxes and packaging are made from recycled cardboard, which helps reduce pollution and also conserves valuable resources found on our planet.
Another way they reduce waste is reusing items that are exchanged or returned after carefully inspection the eco-friendly baby product that is in great condition are re-package and then either donate or re-sell the item. This way they not only help reduce unnecessary waste but also support parents in need and the community.
If a product can not be reused those eco-baby cloth slings will be donated as scrap fabric to recyclers who re-purpose the material such as the organization is FLORIDA Textile Recycling Programs. Its mission is to help the environment by providing a convenient way for people to dispose of unwanted clothes, shoes, and other household textile items.
---
JJ Cole Collections provides parents with products that epitomize utility and convenience while embracing fashion and style. The spacious interior includes multiple organizational compartments while the exterior offers easily-accessible open and zippered pockets.
Some of the features include seven, easy access, exterior pockets are convenient for those items you access multiple times throughout your day. It has four interior side pockets to keep important items handy and the large center section leaves plenty of room to hold everything you need.
It comes with grips that are allowing you to easily secure your diaper bag to any stroller. The padded shoulder strap is removable to fit your own unique style and needs.
---
Dera Design's diaper bag has no waterproof coatings or harmful chemicals, and it is made from organic cotton and hardware. They use sustainably farmed organic cotton, rag paper made from cotton castoffs, and inks that meet or exceed environmental standards.
They protect the environment and reduce greenhouse gas emissions by using sustainable packaging materials and shipping methods. Their mission is to create home environments that are cozy and fun.
The Dera Canvas Diaper Bag has a main compartment with 10 pockets to keep you organized, including a large zippered pocket and 2 interior bottle pockets. The rear diapering compartment unzips all the way for quick access to deep diaper pockets and a portable changing pad in the softest velour.
---
The Green Label Urban Bag is elegantly designed, mainly made from recycled PET, and available in different colors. The Green Label collection by LÄSSIG stands for sustainable production and materials. The bags are produced resource-efficiently and are made of non-toxic materials. 
The lightweight polyester material is made almost entirely from recycled water bottles, making it durable and the perfect size for travel, with deep pockets and compartments to help you keep everything organized. 
Some of its features include a water-repellent, insulated, removable bottle holder with clip, padded changing mat, and a detachable key chain. It comes with a removable zipper pouch ideal for small items, a removable compartment for baby food jars and a water-repellent wet pocket for soiled clothing. 
---
Skip Hop Forma Backpack is a lightweight, quilted non-toxic baby diaper bag, Phthalate-free, and PVC-free. This quilted backpack offers hands-free convenience and special packing cubes. The front compartment includes 2 multi-purpose packing cubes and allows for extra storage.
In comes with stroller straps and cushioned changing pad, and an extra-wide dual zip opening. The changing pad pocket holds tablets and laptops up to 15", which is especially convenient if you are traveling with a laptop.
---
Is a Diaper Bag Really Necessary?
You'll be surprised how many things you have to carry when you have a baby especially when you are a first-time parent. The purpose of a diaper bag is not just to store new or used diapers. When you have to travel with your baby somewhere you'll see how many things you need to carry and you do not want to have dozen of bags with you.
You'll need wipes, hand sanitizer, changing pad, snacks, blanket, clothes for your baby, toys and many more. So there is no doubt that a diaper bag is necessary.
What Makes a Good Diaper Bag?
There are so many great diaper bags out there and it can be overwhelming, time-consuming to find the best diaper bag for you. There a few things you need to consider when it comes to choosing the right diaper bag:
Tip: If natural material, sustainable and environment-friendly, a non-toxic diaper bag is a priority you have to expand your search and look into the option that is not usually marketed or labeled as diaper bags.
Space
This is one of the first criteria you want to consider when choosing the right diaper bag and make sure there is plenty of storage for baby essentials. You'll be carrying many things like diapers, clothes, wipes, bottles, snacks, toys and you'll need a lot of space to fit them in the bag instead of carrying multiple bags.
Material
Material is should be one of the top factors you have to consider even if you are not looking for a sustainable, eco-friendly option you still want to be sure there are not any chemicals used in the products and it is produced in a humane way.
Special compartments
The best diaper bags are the ones that have been designed to hold all your essential baby gear and stuff. If you are a first-time mom, you may be surprised at the amount of stuff you're going to be carrying around to support both babies and your need. You'll need things like sunscreen, diapers, wipes, rash cream, changing pad, nursing cover, bottle, snacks, and more. Easy to open compartments for diapers, wipes, and even to hold bags for diaper disposal.
Style
Many moms and dads want to be sure that their bad fit their fashion style and that's normal. Most diaper bags come in feminine colors and patterns, but we can't forget about dads. Dad will feel much more comfortable carrying the diaper bag if it's a more neutral color or style. The right bags that balance work and style are essential.
Weather-proof
It is always good to be weather-proof, especially if you are frequently going in nature or traveling. preventing water from getting inside or having a water-proof compartment will definitely make your day easier.
Shoulder Strap or Backpack
A lot of the designs that are coming out in the market are in backpack design which is more convenient for any parent. With a backpack diaper bag, you have both hands free to take care of your baby and carry other stuff. It is always good when you can easily transform from carrying to backpack bag design.
Type of Diaper Bag
There are many types of bags you have to consider such as diaper backpacks, messenger diaper bags, tote diaper bags, designer diaper bags. These bags can be a vital bit of a kit for any parent with a toddler. Extra diapers, bottles, binkies, and wipes can come really handy for mother or daddy on the go, and make the time joyful while on the go.
We believe that these factors should be taken into consideration when looking for the perfect diaper bag. If you have another factor that you may think it is important do not hesitate to share it with us.
Final Thoughts
Money is needed to buy anything and people always want to buy to the best thing on the market. When it comes to product selection, we usually try to buy good products with sustainability in mind and always try to support companies that care about the environment and support the community and people in need.