Organic diapers, cloth diapers, disposable diapers – there are so many choices and brands. Which one you should choose for your baby. Disposable diapers that make 2 % of all our garbage – 49 million diapers a day are used by Americans or about 96 percent of American babies wear disposable diapers, while in India only 2 percent, and in China, only 6 percent do.
Are Organic Diapers 100% Biodegradable?
Most people think that diapers made of cloth are the only eco-friendly option, but that is not necessarily true. Even organic diapers might not be perfect, in order to reduce the waste they are a better option. They are also gentler and soften your baby's sensitive skin and use more natural materials.
Often these organic diapers are more expensive but you are making a good not just to the Earth but to your baby as well. A biodegradable diaper can take 50 years to decompose in a landfill, which is still better compared to 500 years for disposable diapers.
What Are Organic Diapers?
Traditional diapers are considered cloth and disposable diapers. Not all cloth diapers are organic. The healthiest diapers available are cloth diapers made from 100 percent certified organic cotton. Various fabrics are used in organic cloth diapers such as hemp, cotton, wool. These diapers do not contain harmful chemicals, they are chlorine-free, fragrance-free, and are made using natural, plant-based materials.
Organic diapers must have at least 95% organic certified fibers, and those that are labeled "made with organic" must have at least 40% organic certified fibers.
Why Choose Organic Diapers?
In general organic diapers are considered as a better option. Most organic diapers are made with sustainable, eco-friendly hypoallergenic materials, with no use of irritating or harsh chemicals. Organic diapers are softer and gentler on your baby's skin and are made with natural, plant-derived materials.
Organic diapers tend to be pricier and if you can not afford them but still want to be sustainable you can look for cloth diapers. They do cost less and can save you money in the long run, and do not produce nearly as much waste as disposable diapers. And you can combine cloth diapers with eco-friendly, non-toxic diaper bags. According to MotherJones, by age 2 1/2 the average infant uses 3,800 diapers, which adds to the carbon footprint and it can be avoided by using organic diapers.
They are chemical-free, and gentler on your baby, better for the earth, many brands are biodegradable, naturally hypoallergenic, ideal for babies with sensitive skin.
What to Look for in Organic Diapers?
One of the main things you have to check when it comes to disposables is the label for any harmful ingredients such as chlorine, BPA, lead, latex, Phthalate, parabens, artificial fragrances or lotions.
Best Organic Diapers to Buy
These baby diapers are using 100% bamboo fiber to make them more soft and absorbent. They are safely prepared and do not contain any fragrance, and great for the sensitive skin of your baby. The diapers are chemicals-free and use natural aloe oil to nourish the baby's skin and keep the diaper soft. 
The packaging of the Eco Boom baby bamboo diapers are also eco-friendly and wrapped with a D2W bag, which will completely disappear within 18 months.
These Biodegradable Diapers are biodegradable in just 75 days. Eco Boom diapers are totally chlorine-free and promise up to 12 hours of protection.
---
Nest Diapers are innovative environmentally friendly diapers made with 100% plant-based materials, hand-selected, like sustainably sourced cotton, to minimize the long-term impact of traditional diapers. 
They use only completely clean ingredients derived from renewable sources and ensure that these ingredients are healthy for babies. Their diapers are free of chemicals and perfumes, use a hypoallergenic material, and soft, based on wood, bamboo, and cane-based.
These bamboo disposable baby diapers are sustainably designed with organic plant-based materials that are biodegradable and compostable. They are the perfect choice for babies with the most sensitive of skin with fully breathable materials throughout, allow air to circulate freely around your baby, and prevent diaper rash.
---
Eco by Naty Baby Diapers uses compostable and renewable and materials that are good not only for the health of our bodies with no hazardous chemicals but for the environment as well.
Their diapers are free of dioxins, perfume, phthalates, latex, dyes, GMOs, VOCs, parabens, and hap. They are made mostly from plant-based materials and come from 100% sustainably managed forests.
The diapers core consists primarily of premium wood pulp that is highly absorbent keeping your baby's skin dry and protected against leakages and blowouts, diapers are also suitable for babies with the most sensitive skin. They are using plant-based material in their packaging too. Naty works only with selected manufacturers who act responsibly and follow their country's laws and regulations as well as Naty's specific requirements.
---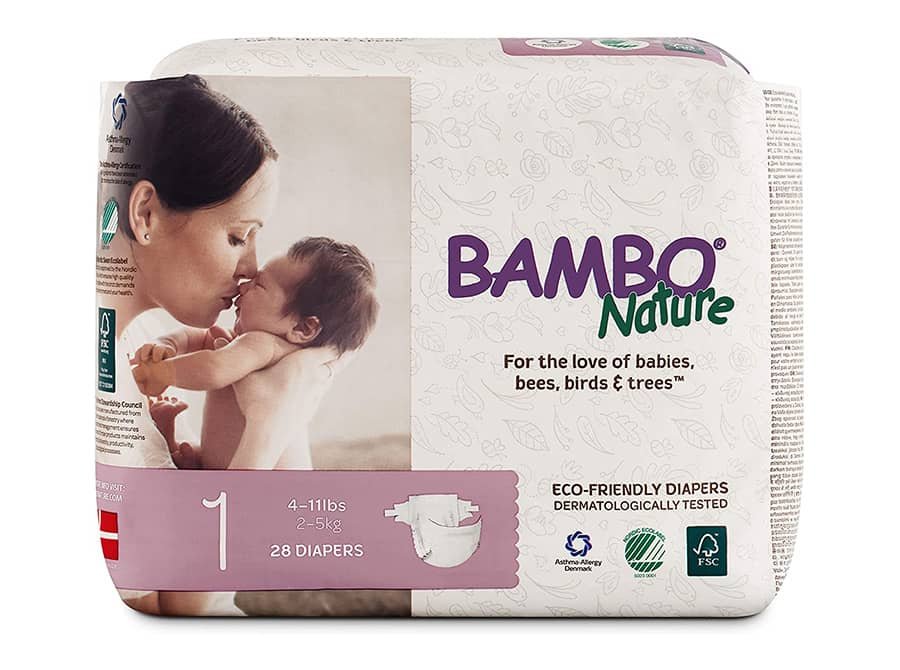 Bambo Nature diapers are both dermatologically tested and FSC certified, as well as the Nordic Swan Ecolabel and the Danish Asthma/Allergy certification. Their diapers are certified free of all known allergens or substances classified as locally irritating, sensitizing, carcinogenic, or mutagenic.
They use a cellulose fluff that is sustainably sourced, and for the core is combined with SAP. Bambo diapers are made of around 75% biodegradable materials, thin yet ultra-absorbent, and feature a fully breathable backsheet. This, along with the absence of harmful chemicals and allergens, prevents and aids in the healing of diaper rash.
Bambo Nature diapers and baby care products are designed to protect, comfort, and perform.
---
Andy Pandy Biodegradable Bamboo Disposable Diapers are 85.6% biodegradable, with a bamboo top- and back-sheet, and a fluff/sap core, 100% chemical-free, including chlorine-free and latex-free. 
They are using bamboo, which is a renewable resource that grows incredibly fast without using harsh chemicals, fertilizers, or pesticides. They are 100% free of any Phthalates, PVC, TBT, Alcohol, Preservatives, and Antioxidants.
These bamboo diapers feature durability, extreme softness, and comfort. They are perfect for even the most sensitive skin with its naturally hypoallergenic and antibacterial.
---
Little Toes Disposable Bamboo Diapers are completely natural and contain no harsh chemicals, additives, phthalates, and fragrances. They consist of bamboo sheets core, top and back are soft, silky, ultra-breathable, strong and super-absorbent (S.A.P). This ensures perfect absorbing capacity and solid water locking comes with stronger reinforced tabs and a wetness indicator.
These diapers are naturally hypoallergenic, made from renewable sources of bamboo fiber, protecting your baby's delicate skin from irritation and diaper rash. These bamboo diapers are 100% free of chlorine, alcohol, perfumes, latex, PVC, TBT, antioxidants, phthalates, or preservatives.
Their bamboo diapers decompose in a landfill when exposed to light in 180 days according to their website. For comparison, a conventional diaper can take about 500 years to decompose in a landfill.
---
Babyganics Ultra Absorbent Diapers uses NeoNourish®, which is their own blend of sunflower, tomato, cranberry, black clumin, and raspberry seed oils, into the diaper core to help support your baby's skin health.
Besides diapers, the company offers everything from sunscreen and laundry detergent to hand sanitizer and bubble baths. A lot of diaper brands use chlorine bleaching but Babyganics is chlorine-free. These diapers are made for a superior fit and comfort as well as enhanced absorbency, with ultra-absorbency, premium fit, a wetness indicator, and soft-stretch sides.
---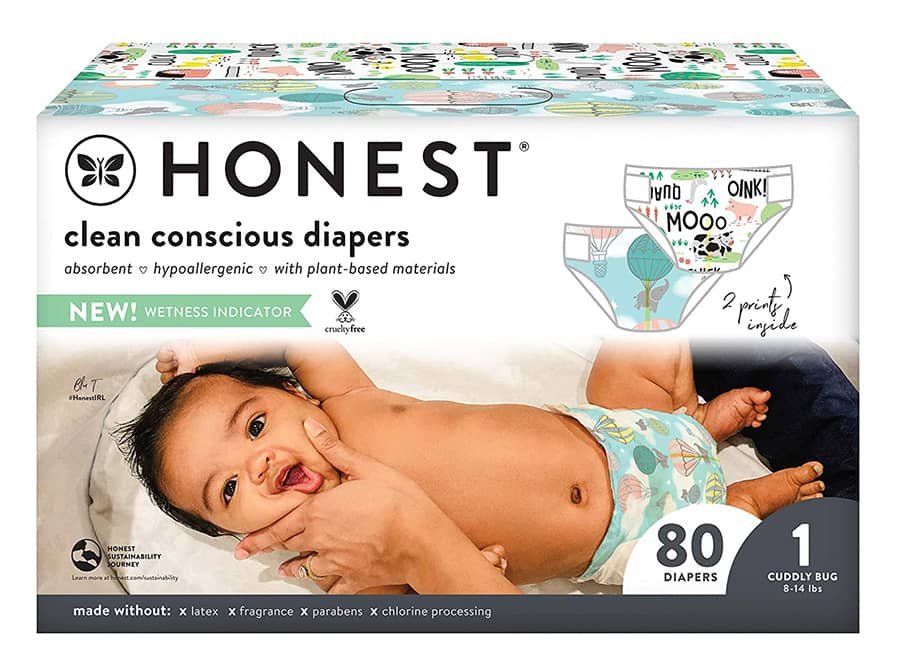 The Honest Company Eco-Friendly Diapers are made without latex, chlorine processing, fragrances, or lotions. They are hypoallergenic, super soft, ultra-absorbent, gentle, safe, and disposable diapers made from sustainable materials.
The baby diaper products minimize diaper rash and keep sensitive skin soft. The Honest Company is founded by Jessica Alba and Christopher Gavigan in 2012 and sells a wide range of products from natural shampoo to sustainable and plant-based and diapers. You can subscribe and customize the colors, patterns of the diapers, sizing, and even the delivery date. 
---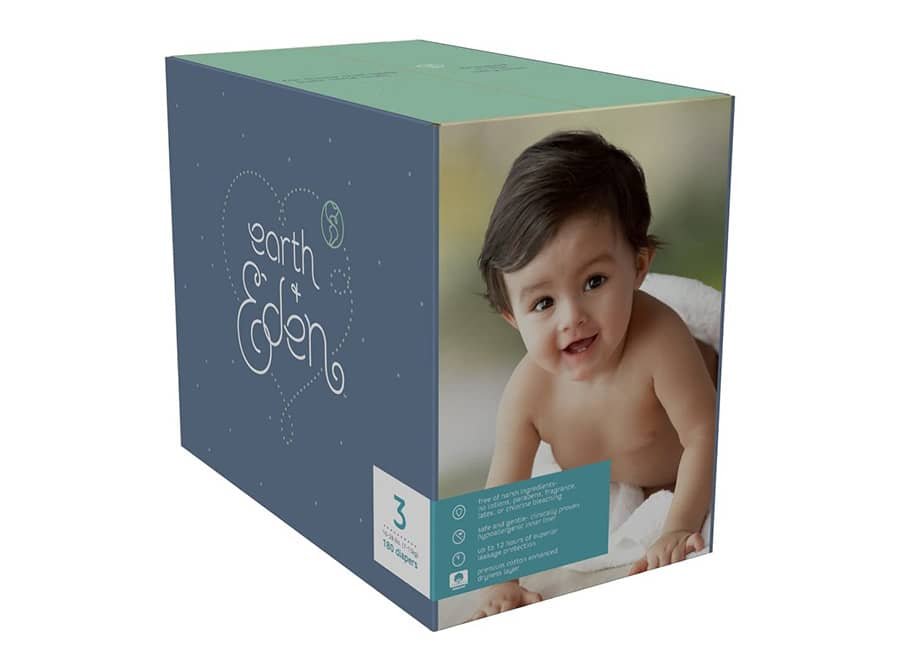 Earth + Eden Baby Diapers are free of harsh chemicals and ingredients, and the ultra-soft liner is clinically proven to be gentle on your baby's skin. Earth+Eden uses sustainably sourced materials and manufacturing practices help to protect the planet.
The diapers are free from lotions, latex, fragrance, and chlorine bleaching. The breathable outer cover helps keep baby's skin dry while the cotton enhanced dryness layer and hypoallergenic inner liner work to keep your baby dry and comfortable.
They are not tested on animals and printed with non-toxic water-based inks. Produced in a Zero Waste to landfill facility.
---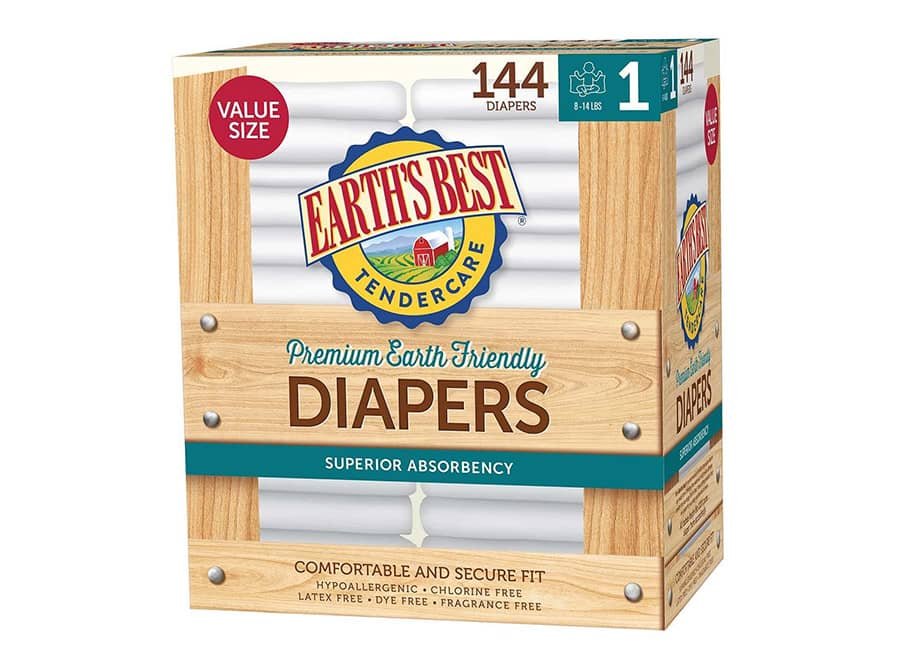 Earth's Best TenderCare® Disposable Diapers are made from renewable resources including corn and wheat starch. These diapers are chlorine-free, latex-free, fragrance-free, and dye-free. They are perfect for babies with sensitive skin, available in seven sizes, and have breathable sides, which offer further protection from leaks and keep your baby comfortable and dry.
The company offers a wide range of safe and gentle baby care products as well as nourishing foods. Their products are eco-friendly and use earth-friendly ingredients, their goal is to "protect the earth through sustainable farming practices.
These disposable diapers provide your baby with a comfortable fit that helps minimize chafing and rashes.
Final Thoughts
We can all take a step to reduce our carbon footprint and waste and one of them is choosing a better diaper option. In the end, is not about the money is about the health and future we can give to our newborns and this starts from the day they are born.
Small steps still make a difference and even organic diapers are not the best option they can still help us reduce the millions of tons of disposable diapers that can take up to 500 years to decompose in a landfill.